An $8 billion night: 7 states legalize medical, recreational cannabis in historic election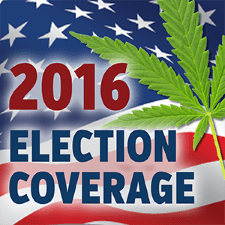 mjbizdaily.com
Date:
Wednesday, Nov 9, 2016
The cannabis industry scored a landslide victory Tuesday as four states legalized recreational marijuana and another three approved medical use, cementing the 2016 election's place in the history books.
The developments could lead to $7 billion-$8 billion in additional annual retail cannabis sales, according to Marijuana Business Daily's preliminary estimates.
California, Maine, Massachusetts and Nevada voted to legalize recreational marijuana, while Arkansas, Florida and North Dakota approved medical cannabis initiatives.
Montana, which legalized medical marijuana in 2004, also passed a measure to set up commercial cultivation operations and dispensaries.
"It's a coast-to-coast landslide," said James Anthony, a cannabis business attorney in California. "We're well beyond the tipping point. It's full-steam ahead."
The only loss: A recreational legalization proposal in Arizona failed at the ballot box. There are also big questions about how Donald Trump, who won the presidency, will approach the marijuana business.