Cannabis Careers | The Weed Scene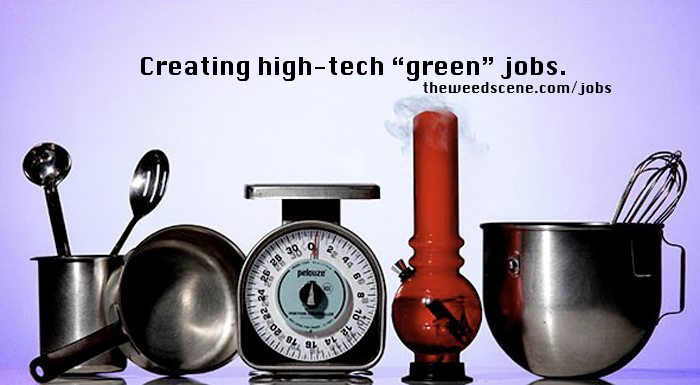 theweedscene.com
Date:
Thursday, Nov 15, 2012
Now that marijuana has become legal in Washington and Colorado for recreational use the boom in Cannabis Careers has become a very hot topic. Medical Marijuana is also legal in 18 states which has also been a large contributor to the marijuana job market and careers in cannabis growing, marijuana dispensaries, grow supply stores and grow warehouses just to name a few of the opportunities to work a marijuana job in the cannabis industries leading market place.
Marijuana growing jobs are in very high demand these days as it really is a dream come true for most cannabis cultivators that have been on the underground scene for many years. Now weed farmers have the opportunity to grow marijuana legally in Colorado, Washington, Michigan, Alaska, Arizona, California, Connecticut, Washington DC, Delaware, Hawaii, Maine, Massachusetts, Montana, Nevada, New Jersey, New Mexico, Oregon, Rhode Island and Vermont. In Colorado and Washington the legalization of marijuana for recreational use has created a boom or a "gold rush" which has created new jobs and careers in marijuana growing, warehouse cannabis cultivation, indoor basement grow rooms, greenhouse growing and much more which has also created a large demand for quality individuals to work these operations, considering them their new career in cannabis cultivation. As the job market has continued to decline, the marijuana job industry has just started to boom, and is expected to employ at least 4000 new people in Colorado alone this year. Thats 4000 new jobs and careers working with cannabis and growing medical marijuana. Now is the time to get in, if you snooze you loose!