How To Make Money On Cannabis Stocks In The Next Three Months | Cannabis Stock Picks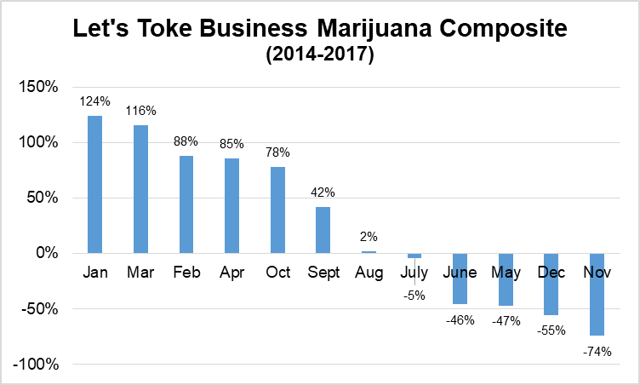 cannabisstockpicks.com
Date:
Thursday, Feb 1, 2018
Starting with tax loss selling, please note I am not giving income tax advice. I am discussing the potential impact of tax rules on the stock market. I will also give you an update on tax loss selling timing which is different this year due to a change in Canadian exchange settlement rules. Please only make personal income tax decisions on the advice of your professional tax expert.
According to Canadian income tax regulations, net taxable capital gains that are crystallized (realized) in a calendar year form part of taxable income in that year. However, if you have realized capital losses in the same calendar year, losses offset gains and reduce or eliminate the amount of taxes payable. This means investors are motivated to realize capital losses to offset capital gains as year end approaches.
The 2017 calendar year qualifies as one in which tax loss selling will most likely be a factor.
This is the Toronto Stock Exchange Index (S&P/TSEX Composite) so far in 2017. It shows prices are at or near record highs. Although the index has had wide swings this year, investors probably took profits on balance.
It is a bounce that takes place after the end of tax loss selling. Investors spend the cash raised in the process of tax loss selling. It is buying in anticipation of rising stock prices in January. It is buying on the momentum created in December, one of the best months of the year. It is a rally fueled by optimism for the economy in the new year. It reflects people investing their Christmas or annual bonuses paid at this time of year. It results from regular year/quarter/month end investment by individuals and institutions. We are entering December on a positive trend in the cannabis stocks. Given the usual seasonal strength in stocks in general, I believe positive momentum will overcome a brief history of weakness in December and carry the rally well into the month. Given the strength in markets generally during the year, I think people probably have realized taxable capital gains in 2017. Given many cannabis stocks are down in price in 2017, I think we will see some tax loss selling in this group between mid-December and Christmas. Remember, however, stocks need to be in a loss position for tax loss selling to be of any benefit in offsetting taxable capital gains. So tax loss selling will be selective. I don't expect much impact on the stocks I have been recommending all year because they are at or near all-time highs. So don't expect Aprhria (OTCQB:APHQF), Aurora (OTCQX:ACBFF), Canopy Growth (OTCPK:TWMJF), Emerald Health (OTCQX:EMHTF), Lexaria (OTCQX:LXRP), Namaste (OTCQB:NXTTF), Organigram (OTCQB:OGRMF) or Radient (OTC:RDDTF) to be hit significantly by tax loss selling as there isn't much room to realize losses with these stocks. If there is a general market correction, all stocks will probably decline but stocks such as these will be impacted less. I still receive questions from readers asking if it is too late to buy Emerald Health, Lexaria, Namaste, and so on. My answer usually involves a reminder that regular readers know I am reluctant to advise chasing stocks up or dumping stocks down. However, I am also a believer in the outstanding long-term outlook for the cannabis industry and the stocks mentioned above in particular. So I would not want to go past Christmas without cannabis exposure in portfolios. As a compromise, I suggest buying a half position in the stock(s) of your choice immediately and following up if there is a tax loss selloff that provides an opportunity to buy more at lower prices. After tax loss selling ends on December 27, 2017, I anticipate the cannabis stocks will put together a strong rally at month end, quarter end and year end buying gives stocks positive momentum going into January and February when markets will be fueled by the inflow of Registered Retirement Savings Plan funds. Again based on limited data, these have also been the best months for cannabis stocks. So I believe it is a bad idea to delay investing in cannabis stocks beyond Christmas.