Trump's pick of Jeff Sessions for attorney general alarms cannabis industry officials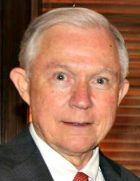 mjbizdaily.com
Date:
Friday, Nov 18, 2016
But she was not despondent, predicting other issues such as immigration are more important to Sessions and Trump and would occupy too much of their time, meaning the Trump administration could simply decide to leave the cannabis industry alone.
A  key upcoming vote in Congress could play a pivotal role in the cannabis industry's near-term future: the Rohrabacher-Farr Amendment to a federal spending bill, which must be approved again by lawmakers for MJ businesses to remain protected from any crackdown by the U.S. Department of Justice.
The bill's namesake, California Republican Congressman Dana Rohrabacher, did not see the negative in Sessions' nomination.
"This president has made clear that he believes in a states' rights approach to marijuana," Rohrabacher said in a phone interview with Marijuana Business Daily. "And if the president is in favor of a states' rights approach to marijuana, I am certain that Jeff Sessions, being a man of high integrity, will not be undermining his president's position and (will) be enforcing what Trump wants rather than what Sessions has done in the past."