Viral video: 'I dare you, bra' - Driver rams car into man during spat over pot in Antioch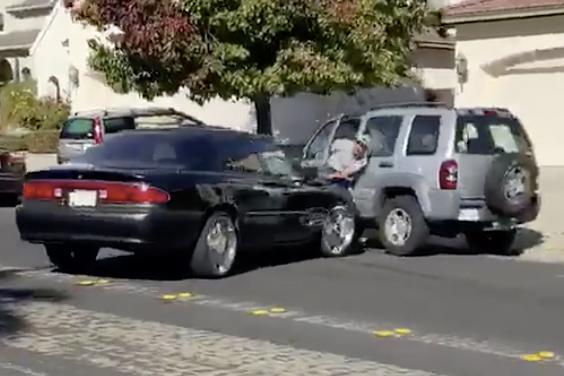 www.sfchronicle.com
Date:
Wednesday, Nov 13, 2019
A jolting video showing one man ramming another with his car on Monday in Antioch after an argument over marijuana went viral with more than 1.5 million views, and police are investigating the incident as an assault.
The 2-minute, 20-second video posted on Twitter starts out in the middle of the argument, with one man in a gray hooded sweatshirt yelling at another wearing a cap, with a third man standing nearby listening. They're all outside the capped man's SUV on a quiet, neatly maintained street near an elementary school in the south part of town.
"They stole my weed, bro! I stopped him. I'm trying to get it back," the man in the sweatshirt says before doubling over and coughing several times.
The man in the cap says, "What you trying to do, bra'— you hit my... car!" The first man responds, "Yeah, 'cause you stole my... weed, bro!"
only in Antioch, CA ‍♂️ this was across the street from my house . pic.twitter.com/ilCOZeQxIj

— King Carter (@carterkesan) November 11, 2019